Writing a column for the New Pulp website sounded like a great idea. I've been involved with pulp fandom since 1984, and done more than my fair share of publishing and writing. I sponsor an annual collectors' event in New Jersey. But then it took me several weeks before finally delivering a column (this one) to Mike and Tommy.
Time slips away from me, unless I'm paying strict attention to the clock or calendar. No sooner had one Friday passed, before I realized that I was staring down the business end of another Friday.
Also, I've never been particularly eager to write about myself. Hence, every editorial in Pulp Adventures, my old publication devoted to the pulps, usually became a notice of noteworthy events or a review of something seen or read. It was a convenient way of reaching out to readers while hiding behind the anonymity of a review.
I'm bringing this up by way of explaining why a column that should have debuted two weeks ago is finally appearing with New Pulp. Since I elected to place myself in the spotlight, and this column isn't going to write itself, I'm hammering it out with less than 24 hours before it should be forwarded to all New Pulp subscribers.
The old-line pulp writers often worked with tight schedules, but they were professional enough to know that working up to the last minute was a bad idea. Maybe this column will be good practice in maintaining those pesky deadlines.
***
Incidentally, I often wondered what it was like to be a pulp author in the Depression. Now, I no longer have to wonder – I've written stories about The Green Hornet, The Spider, the Domino Lady, and Ed Race, the Masked Marksman for Moonstone Books, and the good old U.S. of A. is in the midst of an economic meltdown. Be careful what you wish for.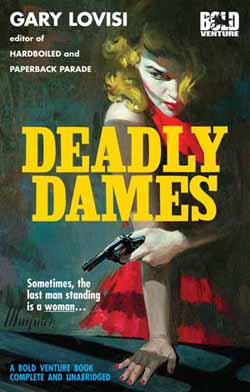 Two major differences between then and now: Hundreds of newsstand magazines offered income potential to freelance authors. At a penny a word (later at a much higher rate), The Shadow magazine's twice-monthly frequency allowed Walter B. Gibson to live like a king. Also, people comforted themselves in the 1930s by telling themselves they would find jobs once the U.S. escaped the Depression – if they could survive that long.
In this modern world, computers and mobile devices are automating certain jobs into oblivion. Therefore, the Depression will never end for some people. On the up side, modern technology allows hacks like me to reach people willing to idle away their time away on my penny-per-word philosophies.
***
Lately, everyone has been writing about the topics "What Is Pulp?" and "Does New Pulp have its place with Old Pulp?" Or something like that. Since everyone has offered up an opinion, I'll throw in my two cents another time.
The only advice I can offer to New Pulp guys: Keep looking ahead. I've been in pulp fandom for over 25 years -- I've witnessed first-hand the close-minded mentality toward just about everything. Many of the "Old Pulp" guys' opinions were fossilized by the time people traded in their "I Like Ike" buttons. The passage of time has proven many of them to be as ill-informed as I originally suspected.
***
Now, to dodge my responsibilities a little further with a review: This week,
Rocketeer Adventures
#3 from IDW Publishing.
This new series chronicles the further exploits of Cliff Secord, a barnstormer who blasts off to adventure after discovering an experimental rocket-pack. The brainchild of the late writer-illustrator Dave Stevens, The Rocketeer was a originally a back-up feature in
Starslayer
, from the Pacific Comics imprint. It quickly achieved a following that overshadowed the lead feature.
This issue features two comic book stories "A Rocketeer Story" by Ryan Sook and "Junior Rocketeers" by Jonathan Ross and Tommy Lee Edwards. The Rocketeer foils a box-office heist and an attempt to steal the jet-pack. The stories are self-contained and fraught with action, but the heart of each story is the romance between Secord and his girlfriend, a pin-up model turned actress.
Both comic stories are admirable efforts, but the real show-stealer is the third feature. Author Joe R. Lansdale and artist Bruce Timm deliver "Heaven's Devils," a Rocketeer story told in prose with spot illustrations.
The first page is Bruce Timm's full-color "cover" to the "April" issue of
Spicy Adventure Stories
, depicting The Rocketeer hurtling to Betty's rescue. A double-page spread follows, showcasing a beautiful black-and-white illustration of The Rocketeer in pursuit of an enemy bi-plane. Distant planes dot the sky around him.
"He just wanted to make time with his girl" the caption reads, "not have to re-fight the Great War!"
Betty is cast as an extra in
Heaven's Devils
, a big-budget feature produced and directed by Buford Biggs, a slimy movie mogul with designs on her. Meanwhile, stunt-pilot-for-a-day Cliff Secord stumbles across a robbery attempt on the studio's payroll. Betty joins the fight, is taken hostage, and its up to The Rocketeer to save the day with an aerial pursuit and rescue.
"Heaven's Devils" is a nifty little eight-page feature, more for Bruce Timm's artwork and the pulp-like format, designed by Robbie Robbins. The plot is simple and straight-forward, with the emphasis on action and dialogue. Lansdale doesn't waste any wordage on atmosphere or description – "The plane deliberately shifted so that the propeller chopped at the good. There was a spray of blood." – but his word count doesn't give him much elbow room. No point in describing the characters, since the illustrations are right there, with the exception of Betty and the love letters to her curves.
"The rear view of Betty was pretty tantalizing. The pink lingerie rode up on her buns like eyelids opening."
Bruce Timm's artwork captures the style and essence of the great pulp illustrators like Edd Cartier and John Fleming Gould. Timm, of course, is one of the talents that made Batman: The Animated Series a revolutionary program, establishing a standard of quality that few television cartoons have attempted to reach before or since.
Run right out and purchase
Rocketeer Adventures
#3 at your local comics-shop. Make certain to write IDW and tell them you'd like more Rocketeer stories told with prose and illustrations. I sure would ...
***
Next week, I'll review some of the stories in Moonstone Books' forthcoming
The Green Hornet Casefiles
, the second prose anthology in the series. It just went on sale, but since I handled layout, design and prepress on the book, I read them before everyone else.
***
Start making plans to attend Pulp Adventurecon on Saturday, November 5th , 2011. Ramada Inn of Bordentown is located conveniently off exit 7 of the New Jersey Turnpike.
It's an annual one-day show with a big emphasis on pulp magazines and related material like vintage paperbacks, movie memorabilia, reprints, and lots more stuff. You have an interest in pulps? It's probably there – Dashiell Hammett, H.P. Lovecraft, Robert E. Howard, Edgar Rice Burroughs, The Shadow, Doc Savage, and everything in between and on the fringes.
It's a fantastic one-day show, and I'm not just saying that because I run it.
Learn more at
www.boldventurepress.com
. Or contact me directly at boldventurepress@aol.com.
BOLD VENTURE PRESS TM & © 2011 Bold Venture Productions. All Rights Reserved.