One day last month I was lucky enough to find my self spending a large part of a day hanging out with science fiction writer Michael Moorcock at his house in Texas. But I wasn't there to interview him, or even talk about his work. Nope, I was there so Michael could teach me a little something about my Pulp heritage.
The collection of British pulps, some dating back to the 19th Century, that Moorcock shared with me that day was staggering in both its breadth and the condition. As well as boxes and boxes full of well-preserved single issues, he also had many runs of old pulps collected in leather bound volumes.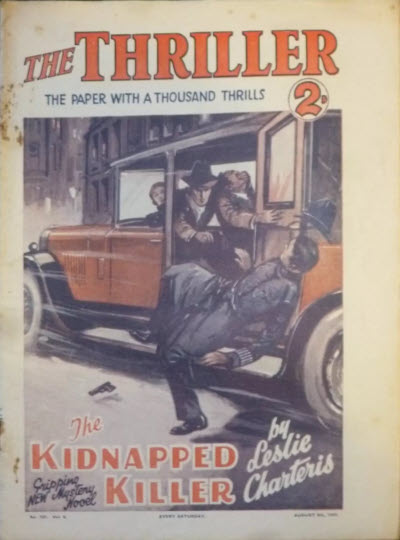 It was with one of these that we kicked off my day's pulp education. For sitting on the sofa next to me was a bound volume of The Thriller magazine collecting various issues from the early 1930s. Flicking through I quickly came across an issue from 1931 with a great cover featuring one of my all-time favorite characters, The Saint. (And if anyone reading this owns the rights to Simon Templar – I'd love to write a Saint adventure or two one day – hint, hint.)
"The Best of All ages and Either Sex," The Thriller "A 7/6 novel for 2d; The New Paper With a Thousand Thrills" , as the magazine styled itself, is a difficult one to classify. The two-penny pricing and the advertisements for other boys publications , various games and toys, and the occasional soccer scores, would suggest that it was aimed juvenile boys adventure weekly market; however the tone and style of the content would suggest a more adult target market. The aforementioned Saint's creator, Leslie Charteris, who would be a frequent contributor, described it as appealing to a teenage and upward reader.
As British pulp historian Derek Adley points out, "The Thriller definitely had its fans in all age groups, even if it was sometimes hidden between the pages of The Times."
The Thriller
was published by Amalgamated Press, which by the end of the 1920s was publishing dozens of adventure style magazines, most with circulation numbers in the millions. It was group editor Percy Montague Haydon, aka "Monty," who came up with the idea of producing a magazine with top-class mystery / crime / thriller detective stories for an affordable price. To launch the magazine he paid over the top rates (about ten times the then current going rate for a pulp manuscript) to thriller-writer Edgar Wallace, who would go on to be co-creator of King Kong. His story "Red Aces" launched the first issue of The Thriller on February 9th, 1929.
Word soon spread about the quality new adventure magazine, and over its run The Thriller would attract writers such as Dashiel Hammett, Capt. W.E. Johns, (Creator of air ace Biggles), Sax Rohmer (Creator of Fu Manchu), and even Agatha Christie, alongside established crime writers such as Wallace and Charteris.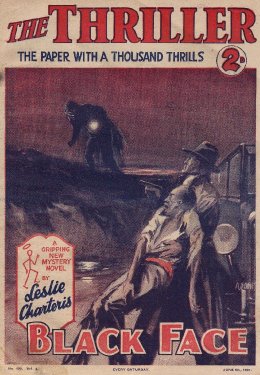 The magazine was also renowned for its excellent black and white art work that accompanied the main story each issue. Perhaps the best being those by Arthur Jones whose illustrations have a distinct air of mystery and menace about them. All the artwork was original and only ever used once, at the time of a stories original publication. Even when stories were reprinted elsewhere the art was never reused.
Although best known for its great fiction, The Thriller also included articles covering nearly every aspect of crime, along with the art and science of detection. Also popular was a feature called "Bafflers," a detective story game in which the readers had to solve the mystery for themselves.
In 1939 after ten years of publication and 525 issues, a short run cowboy story paper was folded into The Thriller, but with no real impact. However a year later with issue #579 the events of the world outside impeded on the fantasy with a lead story entitled "Gestapo Spy Trap," and a change of title to "War Thriller."

Ten issues later the magazine succumbed to the realities of paper rationing in worn torn Britain and ceased publication.
Today copies of The Thriller are highly sought after, especially the Christie and Charteris ones, and I'm grateful to Michael Moorcock for allowing me to lose myself in the pages of his collection and journey back to a thrilling 1930s.